‼When booking, please note that the term "Traveler(s)" actually represents the number of rental days. (Cost of 1 "Traveler" = 1 day's rental fee)

‼One Pocket Wi-Fi device will be provided per booking. If you'd like to rent extra devices, please make separate bookings.
Rental Steps
1. Book Online
After selecting the device, choose your rental dates and make the payment. A booking confirmation email will be sent to you upon reservation. To ensure availability, we recommend placing your order at least 3 days prior to your date of departure.
2. Collect
Collect your Pocket Wi-Fi at Guangzhou Baiyun International Airport. Please show your phone number or booking number to the staff to collect your device.
3. Return
After usage, please return your Pocket Wi-Fi at Guangzhou Baiyun International Airport. After which, your deposit will be returned to your credit card.
Please pick up and return your Pocket Wi-Fi at Guangzhou Baiyun International Airport Service Counter
Collection & Return Points

Hours of Operation

"途鸽Wi-Fi"
Tourist Information Center, Gate 7-8, International Departures
(just outside Security Check)

8:30 a.m.–9:30 p.m. Daily
Cost
Total = (Daily rental fee x Number of days*) + Deposit**
*The rental period commences on your pickup date and expires upon your designated return date.
**Please pay a deposit of CNY500 directly to the staff at the airport service counter. Payable by cash or credit card at your chosen counter. You can use the following credit cards:



The deposit will be refunded to your account after your Pocket Wi-Fi has been returned.
How to Use
1. Switch on the TGT Wi-Fi device by holding down the power button until it lights up (2–3 seconds).
2. Search for Wi-Fi networks on your smartphone or computer.
3. Choose the SSID number labeled on your Wi-Fi device.
4. Enter the KEY (or password) as found on the Wi-Fi device.
5. You should now be connected!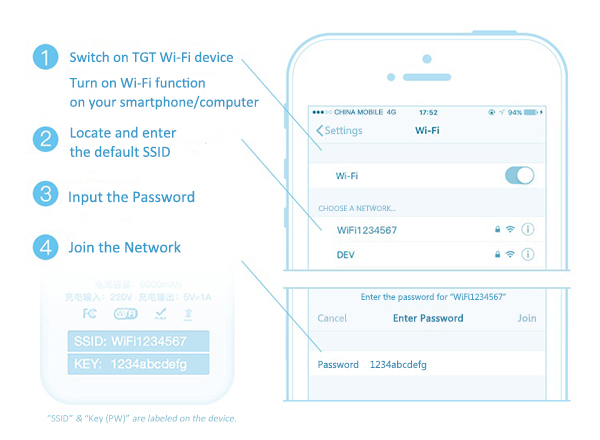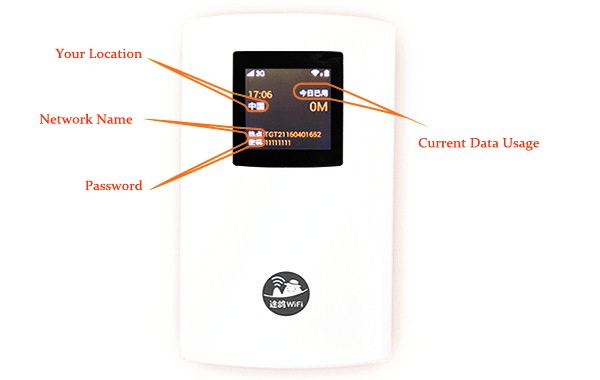 Troubleshooting:
Most issues will be resolved by following the steps below:
1. Check the network coverage of your location
If the network signal is weak, it means you are outside the service area. Please move to an area where the signal is stronger. If there is no coverage in your area, your Wi-Fi device will not work.
2. Restart/ Reset Wi-Fi device
Refer to the below picture to reset your Wi-Fi device.

What's included in the rental package?
Wi-Fi Device x1 | USB Cable | Charging Plug | Carrying Case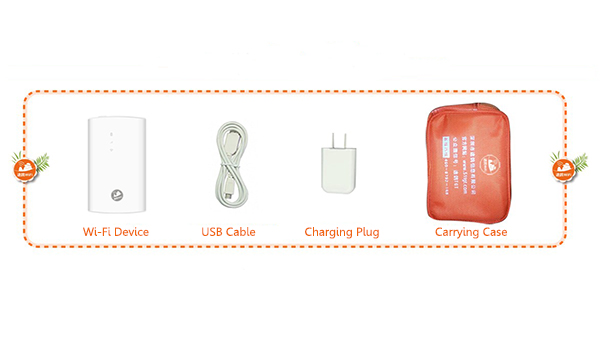 Usage Tips:
1.Charge your Wi-Fi device for 3–5 hours before using it for the first time.
2. Battery life is 8-10 hours for continuous usage and the speed is impacted by the number of devices connected to the device.
3. Up to 5 devices can be connected simultaneously within a 10-meter range.
4. Signal performance relies on your local network coverage. If your device isn't functioning as it should, please move to a space where the signal is stronger and restart the device.
* Please note:
• Please return the full rental package (collectively referred to as the "Equipment") before or on the agreed return date. Failure to receive the Equipment, or any portion of the Equipment after the agreed return date will result in a daily penalty fee of CNY20 being charged until it is returned. If the Equipment is not returned within 7 days after your agreed return date, your deposit will not be refunded as a result of equipment loss.
• The Equipment shall be returned in good working order and condition. Otherwise charges will be applied as following:
◊Wi-Fi device: CNY 500/unit
◊Device carrying case: CNY 50/pc
◊Charging plug or USB cable: CNY 25/pc
◊Device screen damage: CNY 200/pc
◊Device shell/button damage: CNY 100/pc