English
Day Tour | No-Shopping | Group Tour | Boutique Tour
Daily | Book 1 day before
Shanghai
Zhujiajiao Water Town | World Financial Center | The Bund | Quality Review
Experience the Best China with Ctrip VIP Groups!
• Product: Small group limited to maximum 6 participants, well-designed itineraries without shopping or hidden costs
• Guide: Friendly and finest licensed guide who is not only fluent in English but also will assist you all round your tour
• Driver: Trust worthy licensed local driver with over 5 years' driving experience, familiar with the roads and itineraries to all destinations and restaurants
• Vehicle: Insured 7-seat business vehicles equipped with air purifier, recycled every 4 years, and registered with Shanghai Tourism Administration
• Meals: A featured local Chinese restaurant offering delicious Shanghai local food
• Service: 24/7 customer service; portable Wi-Fi; bottle water and beer free of charge at refreshments kiosk
Highlights:
• A visit to "Oriental Venice", the world famous Zhujiajiao water town and glimpse the old Shanghai
• Enjoy the freshly-prepared lunch with views of the river
• Have the unique experience of viewing the charming cole flowers at Khezi Garden (in spring)
• A unique walking tour along the Bund to discover the "old" and "new" face of 22 of Shanghai's most famous buildings and immerse yourself in their history with the help of our company's informative pamphlets.
• Get a stunning view of all the iconic buildings of Shanghai's 55 metre long skyline and from the 100th floor of the stratospheric World Financial Center.
• Gain a deeper insight into the attractions, with our illuminating narrations.
• Receive a video and 6 documents to help you further discover the hidden gems of Shanghai.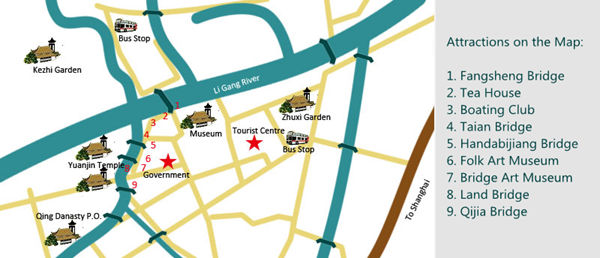 Details

8:00 a.m. Shanghai downtown hotel pickup & transfer to Zhujiajiao (about 1.5 hours)

9:30 a.m. Zhujiajiao (about 2 hours)

While other group tours only give you a cursory glimpse of the waterway, our guide will help you explore 3 carefully selected places in the waterway as below, recommended by our local experts. Most importantly, you will be taking the gondolas with our guide on the water way to view the facade of the Ancient Town from different angles and take some great photos of the swathes of pretty cole flowers in Kezhi Garden.

11:30 a.m. Lunch at a local restaurant in Zhouzhuang (about 1 hour)

12:30 p.m. Transfer to World Financial Center (about 1 hour)

1:30 p.m. World Financial Center (about 2 hours)

As one of the most popular attraction in Shanghai, the World Financial Center receives many tourists every day. Usually people have to stand in a queue to buy the tickets and it will take about at least half an hour! In order to save your time, our product team has studied the volume of tourists at different times a day. We concluded that the optimum time to take you there is by 13:30 in the afternoon for 3 reasons (Less people, brighter sunlight, better views, especially during days when air pollution is heavy). Your guide will buy the tickets on-line in advance, saving you from standing in a long, slow moving queue.

3:30 p.m. the Bund (about 1.5 hours)

Next, we will drive you to one of the top scenic spots in Shanghai-the Bund. To avoid giving you the most cursory of tours, we will furnish you with a map of the Bund where we have labelled the 17 most representative buildings and a guide to the differing architectures of Shanghai when your trip is confirmed. You will receive an informative pamphlet of photos of Shanghai's new, gleaming skyscrapers, together with the history and classic architecture of its colonial past.

5:00 p.m. Drive back to your hotel (about 1 hour)

• Please note: airport or train station drop-off is available requiring additional fee.
Important Notes

Please note:
• Bookings made after 6:00 p.m. the day before departure will be canceled.

Child Discount:
• Children under the age of 2 are free of charge, which is based on no seat occupancy.
• Children 2-12 years old and shorter than 1.2m are entitled to a discount, please check the price published onsite.
• Children 2-12 years old but over 1.2m in height are required to pay an additional fee on site.

Cancellation Policies:
• Please call or email Ctrip if you need to cancel your booking.
• Modification is not accepted, please cancel your booking first and rebook the product.
• Free cancellation for bookings canceled at least 72 hours in advance. No refund will be granted for cancellations made after this time.

How to Join the Group:
• On departure date you will be picked up from hotel, please check the pickup range as specified in details.
• Please help yourself confirm pickup information regarding your driver and/or tour guide by checking this page the day before departure.

All information will be updated only 24 hours ahead of your tour date. If you failed in getting the information, please call the emergency contact number which you will find listed on the confirmation email.

Emergency Contact:
• Please call David @13910694045 for any urgent matters.