English
Transfer | Group Tour
Daily | Book 1 day before
Tianjin | Beijing
Cruise Port Pickup/Drop-off Service
Ctrip Recommends!

Per guest prices are based on a group of 4.
Choose us and make an exceptional start to your China trip!
• Formal-dressed and well-behaved driver who will wait for you at the designated position holding a welcome board
• Non-smoking shared bus offering bigger space, GPS, air-conditioning
• 24/7 customer service
• If you want to go by railway, pre-booking tickets is necessary as the train ticket are always being sold out. There is a special counter for Tianjin-Beijing intercity tickets, but often only trains departing 2 or 3 hours later are available. The Tianjin railway station is 1 hour away from the port, big but low on signage. It can be rather a hassle to get in and out the station with luggage, not to mention the long lines. We will make everything smooth and easy.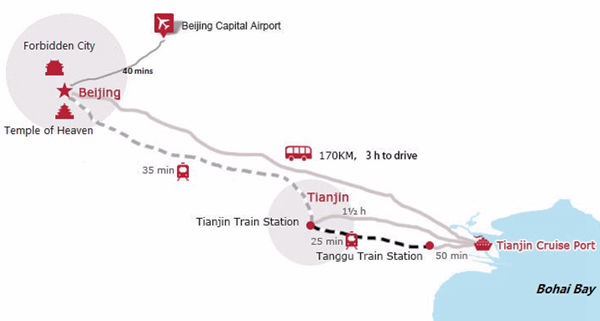 Our guides and drivers get to Tianjin one day ahead and have a good night's sleep allowing them to be first at the dock. No matter what time you get off the cruise you will see us waiting, lively and ready. More importantly, we avoid fatigued driving, so you will have a safe and smooth trip to Beijing.
You won't waste a minute as our guides all wait at Exit 3, exactly the place where you will spot us when checkout from custom, 4 or 5 guides from us will be holding sign with our logo there to make sure you won't miss us. You will be on the way to Beijing once our shared coach is full which should be less than half an hour after you disembark.
Trying to know more about Beijing city for planning your future trip? On the way to Beijing, your guide will make a briefing about your destination, and make the best of the 2-hour drive. Our guide had to undertake very rigorous training before they work for us, and We convince they are the best local guides in Beijing. They will share some insider tips, and answer your questions.
Our shared coaches will stop at some major hotels in downtown Beijing. If your hotel is not on the stop list, our guide will hail a cab for you, and provide a hand-written taxi note to help you get there hassle-free.
With private transport you don't need to check in at a hotel straight away as our vehicle will keep your luggage safe. You can start sightseeing when you arrive in Beijing.
Orange Transfer Welcome Board: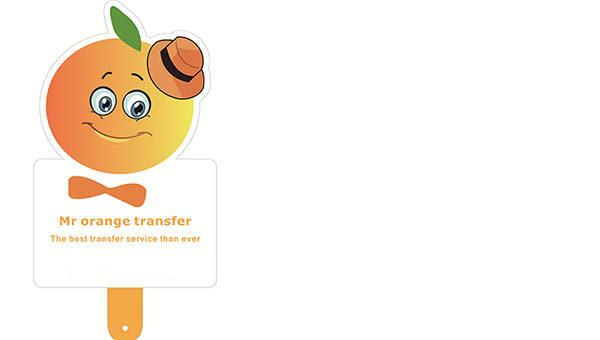 Details

Itinerary 1: Tianjin Cruise Port Pickup

7:00 a.m. Find your guide holding a flag at the exit of the arrivals hall.
• Please note: Guides are only allowed to wait for passengers at the exits, not inside the waiting hall. Don't worry if you can't see us in the waiting hall, please walk out of Exit 3 and you will spot us.

8:00 a.m. Board on the coach

9:30 a.m. The coaches leave the port and set off to Beijing. (about 3 hours)

12:30 p.m. Arrive in Beijing.

You will be dropped off at the 4 hotels listed below. For guests who live in other hotels, the guide will help arrange a taxi at their own expense.

1.Beijing International Hotel: 9 Jianguomen Inner Street (Jianguomennei Dajie), Jianguomen and Guomao Area, Beijing

2.Novotel Peace Hotel Beijing: 3 Jinyu Lane (Jinyu Hutong), Tian'anmen Square and Wangfujing Area, Beijing

3.Crowne Plaza Beijing (road side): 48 Wangfujing Avenue (Wangfujing Dajie), Tian'anmen Square and Wangfujing Area, Beijing

4.Prime Hotel: 2 Wangfujing Avenue (Wangfujing Dajie), Tian'anmen Square and Wangfujing Area, Beijing

Itinerary 2: Tianjin Cruise Port Drop-off

9:30 a.m. Find your guide holding a flag and waiting at Beijing International Hotel.

10:00 a.m. The coaches leave for Tianjin Cruise Port. (about 3 hours)

1:00 p.m. Arrive at Tianjin Cruise Port.

Free Waiting Period:
• For pickup service: Your driver will wait up to 2 hours for free after your flight arrives, otherwise extra fees will apply (USD5 per half hour per car). If you encounter any difficult surroundings (visa issue or the luggage losing, please do not hesitate to contact us at 0086-13910694045 immediately.)
• For drop-off service: Your driver will wait up to 20 minutes at your designated pick-up destination for free.
If you do not arrive during waiting time and cannot be contacted, you will miss your car and receive no refund.