Highlights:
• Hike up to the most beautiful and photogenic section of Great Wall on the ridge of the mountains.
• Walk through ancient watch towers of various styles and see the mechanisms of defense used on the wall.
• Enjoy cold drinks and snacks at a Ctrip Refreshment Kiosk free of charge.
• Spend your day with a professional expat guide who will discuss Chinese history and culture with you along the way.
• A palatable post-hike meal at a Ctrip vetted and approved restaurant.
Itinerary:
7:00-9:45 a.m. Beijing downtown hotel pickup & drive to Great Wall at Simatai West
In the morning, your guide will pick you up from hotel. In order to avoid traffic congestion, we start in the early hours. Also, by leaving in the early hours, we avoid the mid-day torrid and sweltering heat especially during the hot seasons. It takes about 15-30 minutes to get to the highway from your hotel. Entrance into the highway is located on the 3rd ring road to the north (for instance, a 20-minute drive gets you there if your hotel is close to the Forbidden City).
There is an optional restroom break after about 20 minutes into the drive. Usually, it takes about 2 hours on a traffic-free highway to get to Simatai section of the Great Wall. If we run into a jam, it might take between 2.5-3 hours to arrive.
Upon arrival, your guide will purchase your entry tickets. It's time to start your wonderful hiking experience on this spectacular Simatai Great Wall. A 15-minute hike up some stairs will lead us to the ridges (Simatai Great Wall is located along the ridges).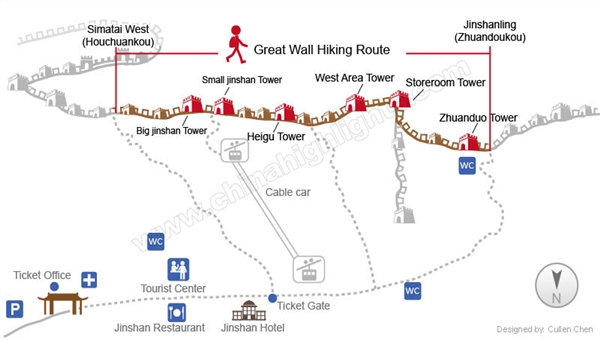 9:45 a.m.-12:45 p.m. Hiking the Great Wall from Simatai West to Jinshanling
Houchuankou Pass (后川口), is the very first unrestored watch tower we will mount. This is where the hiking on the Great wall itself starts. As you hike up the wall, you will have a wonderful perception of the Great Wall. Let the panoramic view of the Great Wall as it stretches into the horizon inspire you. Don't forget to take souvenir photos as you ascend. This section of the Great Wall is renowned as it is built atop sharp ridges. As we ascend and descend each section, hikers will be stunned by the impressive feat of engineering the Great Wall represents.
We can stop to take in the amazing view from one of the highest points we will reach that day. About halfway through the hike, at approximately 10:50, we will stop at a Ctrip refreshment kiosk, where you will be offered water and snacks. Here we provide a pick-me-up service after a 15-minute rest. If you feel that the hike is a little more challenging than you had anticipated, we can certainly make more rest stops along the way, especially during hot summer weather. We will pass through several towers that offer shade; some even have a small temple on the top that you take a look at if you aren't too tired.
Make your Great Wall experience more fun by having a taste of Great Wall wine on the Great Wall! (The wine is not included in the itinerary, feel free to let us know if you need it.)
Zhuanduokou Pass (砖垛口) marks the end of our hike. It is a three-story tower with large red, wooden windows facing north. This will be our last few moments on the Wall, so make sure you have taken enough photos along the way! We will then get off the wall and walk down a short path to our lunch venue.
1:00-2:00 p.m. Lunch Time
A restaurant set up by villagers at the base of the entrance to Jinshanling offers traditional, freshly cooked scrumptious food including vegetables and meat. We'll enjoy a typical northern Chinese lunch that includes fried tomato with egg, roasted eggplant with potatoes and peppers, stir-fried bok choy, among others.
2:00-5:00 p.m. Return to Beijing
After having a savory lunch, it's time to transfer you back to your Beijing hotel. Your driver will be waiting for you at the parking lot. If you feel like using the restroom, do that before you get into the car. As you drive along, you may take a nap if you want to.
The duration of the ride back to your hotel depends on the traffic heading into the city, and the hotel distance from the expressway. The drive may take about 2-3 hours. We will be driving on the same expressway we took on the way to Simatai West. In order to save you the pain of sitting in expressway traffic for hours, we've carefully planned our return time and we usually leave quite early enough before evening rush hours. Upon arrival, we strongly suggest you back up your camera or phone's memory card so you don't lose thrilling photos taken tour out this spectacular section of the Great Wall.