English
Day Tour | No-Shopping | Group Tour | Boutique Tour
Daily | Book 1 day before
Beijing
Jiankou & Mutianyu Great Wall
Quality Review!
Experience the Best China with Ctrip VIP Groups!
• Product: Small group limited to maximum 6 participants, well-designed itineraries without shopping or hidden costs
• Guide: Friendly and finest licensed guide who is not only fluent in English but also will assist you all round your tour
• Driver: Trust worthy licensed local driver with over 5 years' driving experience, familiar with the roads and itineraries to all destinations and restaurants
• Vehicle: Insured 7-seat business vehicles equipped with air purifier, recycled every 4 years, and registered with Beijing Tourism Administration
• Meals: A featured local Chinese restaurant offering delicious Beijing local food
• Service: 24/7 customer service; portable Wi-Fi; bottle water and beer free of charge at refreshments kiosk
Highlights:
• Challenge yourself by hiking through the most unanticipated and untamed Jiankou Section of the Great Wall.
• The fully restored Mutianyu section has the most stunning sunset.
• Experience two contrasting sections of the Great Wall during the travel.
• Because your satisfaction matters most to us, experience an exclusive hiking escorted by one of our finest and adept expert guide.
• Our hiking equipments are of high quality to ensure safety during your adventure.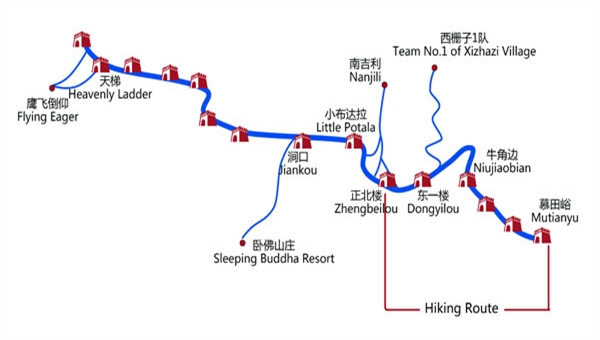 Details

7:00 a.m. Beijing downtown hotel pickup & transfer to Great Wall at Jiankou (about 2.5 hours)

• Please note: Free pickup/drop-off available for hotels situated within the 4th Ring Road of Beijing, otherwise additional charge applies.

9:30 a.m. Hiking the Great Wall from Jiankou to Mutianyu (about 3 hours)

The Jiankou section of the Great Wall might be the most dangerous. Nonetheless, with safety being our priority, we have made every necessary preparation to give you an extra ordinary experience. We strongly suggest you wear comfortable hiking shoes and clothing.

Your driver will drive you and your guide to the foot of the mountains at Jiankou. There is a short walking distance through the village after which you will hike up to the Great Wall via mountain path.

Arrive at Zhengbei Watch Tower (Geographic coordinates: 40°27'16.44"N 116°32'9.78"E). Your will use a ladder to get up to Zhengbei Watch Tower (Your guide will pay 5 Yuan to the local farmers who maintain it).

Hike till you attain the highest watch tower at Jiankou, then walk down to the unrestored part of the Great Wall at Mutianyu along the rolling ridgeline and antique walls. From the Mutianyu visitors' gate hike through the modernized Great Wall section from the 23rd to 10th watch tower.

2:00 p.m. Lunch Time (about 1 hour)

Getting down from the Great Wall, you will be tired but highly contented with a wonderful experience. As such your guide will direct you to Subway™ where you will have some good rest and enjoy your lunch alongside a cup of ice cold soft drink.

2:30 p.m. Return to Beijing (about 3 hours)