Highlights:
• Challenge yourself by hiking through the most unanticipated and untamed Jiankou Section of the Great Wall.
• The fully restored Mutianyu section has the most stunning sunset.
• Experience two contrasting sections of the Great Wall during the travel.
• Because your satisfaction matters most to us, experience an exclusive hiking escorted by one of our finest and adept expert guide.
• Our hiking equipments are of high quality to ensure safety during your adventure.
Itinerary:
7:00-9:30 a.m. Beijing downtown hotel pickup & transfer to Great Wall at Jiankou
In the morning, your guide will be waiting for you in the hotel lobby holding a signboard Ctrip logo on it. Show us your Ctrip confirmation letter and you will be guided to our vehicle. You will then be driven for 2.5 hours to reach the Great Wall at Jiankou section.
Jiankou is near Badaohe Village, northwest Huairou County and a suburb of Beijing. It''s one of the most challenging sections of the Great Wall, as it is completely unrestored. This section has mountains. Interestingly, untamed ancient history and discovery awaits you there.
The Jiankou section of the Great Wall might be the most dangerous. Nonetheless, with safety being our priority, we have made every necessary preparation to give you an extra ordinary experience. We strongly suggest you wear comfortable hiking shoes and clothing.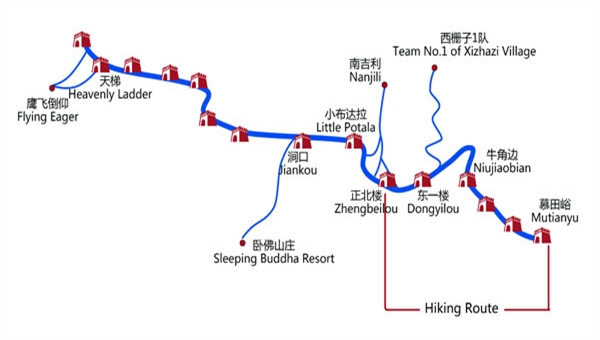 9:30 a.m.-1:30 p.m. Hiking the Great Wall from Jiankou to Mutianyu
Your driver will drive you and your guide to the foot of the mountains at Jiankou.
There is a short walking distance through the village after which you will hike up to the Great Wall via mountain path.
Arrive at Zhengbei Watch Tower (Geographic coordinates: 40°27'16.44"N 116°32'9.78"E).
Your will use a ladder to get up to Zhengbei Watch Tower (Your guide will pay 5 Yuan to the local farmers who maintain it).
Hike till you attain the highest watch tower at Jiankou, then walk down to the unrestored part of the Great Wall at Mutianyu along the rolling ridgeline and antique walls.
From the Mutianyu visitors'' gate hike through the modernized Great Wall section from the 23rd to 10th watch tower.
2:00-2:30 p.m. Lunch Time
Getting down from the Great Wall, you will be tired but highly contented with a wonderful experience. As such your guide will direct you to Subway™ where you will have some good rest and enjoy your lunch alongside a cup of ice cold soft drink.
2:30-5:00 p.m. Return to Beijing
A ferry bus will take to the foot of the Great Wall. You will board your tour vehicle after a 5-minute walk to the parking lot. From there your driver will take you back to your Beijing hotel.
How difficult is it to hike from Jiankou to Mutianyu?
This route, because of its rugged nature and undeveloped condition compared to other routes, is the most difficult to hike. In order to complete this tour, fitness ability and stamina are indispensible. Hikers with previous experience will find this tour really suitable. Parents can decide whether or not to bring their children age 12 and above on this tour depending on the children''s physical strength and resilience.
The part from Xizhazi Village at the foot of the mountain to Zhengbeilou Watch Tower takes almost one hour of robust climbing. With no clear paths, this part of the tour is like walking in the jungle. The Zhenbeilou Watch Tower at the mountain top is the only directional guide as you walk through this section.
The real hiking starts after climbing up to Zhengbeilou. Most parts of Jiankou section are heavily weathered with no stairs. Its slippery with steep slopes (almost 90 degrees). As soon as you get to Mutianyu Section of the Great Wall which is fully repaired, you'll notice a significant change as you enter into an open space with clearer paths and smoother roads.